Over our 5 years of service, Platinum Air Conditioning have performed many installations of all forms of air conditioning all over the Northern Beaches and beyond, including:
Contact us
or Call 0423 065 131 any time !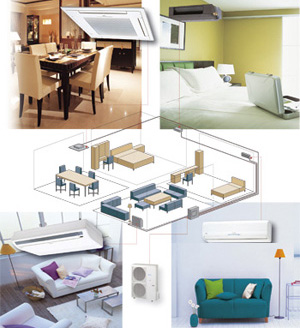 Overview
Multi-Split air conditioning systems are one of today's most advanced forms of air conditioning and are an ideal solution for situations where there is insufficient roof and ceiling space for ducting or limited space for outdoor units. Multi-split systems offer more installation flexibility and space saving options and have the ability to air condition multiple rooms simultaneously with a single outdoor unit. The systems are available in a range of energy sizes, depending on the dimensions of the indoor rooms.
The Installation Process of Split System Air Conditioning
The indoor units which deliver the conditioned air can be wall mounted, floor standing or ceiling cassettes, which makes them suitable for matching virtually any interior design.
The systems are easy to install and quiet to run, as the compressor unit is located outside, meaning that the indoor units maintain a quiet operation. This makes the split system ideal for installation in bedrooms and offices anywhere from the Northern Beaches to urban Mosman.

Take Advantage of Split System Air Conditioning's Benefits Today
Advanced Cleaning – The system's filtration system uses a self-cleaning mechanism to fight odour and bacteria and protect against mould Comfort - Varying air-flow options are available to provide the ideal atmosphere Compact – Compact design of the outside compressor and extra-long piping enable easy installation in most types of property Cost Effective - The system uses approximately 20% less electricity than fixed-speed models Another benefit of Multi Split systems is that each room can be controlled individually with remote controls. This provides you with maximum comfort but is also energy efficient as wastage is eliminated and running costs are kept to a minimum. The remote controls allow you to keep each room at the optimum temperature and are especially useful for indoor units which are mounted on the ceiling or wall, out of reach.
Multi-Split air conditioning systems are available in reverse cycle (heat & cool) and cool only models and are suitable for all year round use.
Platinum Air Conditioning are experts in the split systems industry and have served the Northern Beaches and Greater Sydney regions with excellence for over 5 years. To organise a reliable split system installation, call us on 0423 065 131 or contact us online. You can also check out what our customers have to say on our testimonials page and all the areas we service.